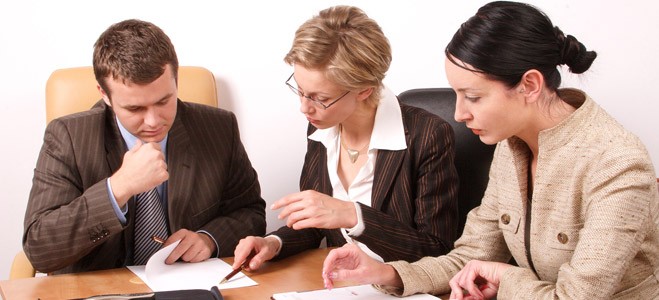 Financial Analysis Software
EXPLORE THIS NEW FINANCIAL ANALYSIS SOFTWARE
THIS TOOL WILL TRANSFORM THE WAY YOU MANAGE YOUR BUSINESS
GET A COMPETITIVE EDGE BY OPTIMIZING YOUR COMPANY'S PROFITABILITY, CASH FLOW AND FINANCIAL SITUATION
Business Managers know that creating or updating a financial analysis and projection can be time-consuming, error prone, and expensive, due to the inherent complexity of the analytical work that may be involved, and so many dynamic factors with unexpected events that can affect the results.
THIS NEW FINANCIAL TOOL IS THE SIMPLEST, FASTEST, AND MOST EFFECTIVE WAY EVER DEVISED FOR BUSINESS OPTIMIZATION
If a financial analysis and planning is done too slow as it usually happens when it is created from scratch, it could become obsolete by the time it is finished. Therefore, it is vital to do it as efficiently as possible and keep it updated for obvious reasons. You can ensure a fast and consistent analysis at any time without any special financial or technical background.
THE POWER OF AUTOMATION THAT CAN BEAT THE MOST ELITE EXPERTS
Just connect the USB flash drive preloaded with the FATP software into any computer running Microsoft Office Excel and load your relevant basic financial data. This system automatically detects, measures, and pinpoints any cost or expense inefficiency affecting your profitability, cash flow, and financial situation; including the projected pricing, full costs, and profit of all your products and services. The system analyzes in a few minutes the complete financial situation (past, present, and projected targets) to help you create a fast-tactical plan for optimizing your financial results.
COMPARE YOUR FINANCIAL RESULTS VS. THE OPTIMAL POTENTIAL SOLUTIONS
Calculate the optimal potential solutions based on facts that you can verify from your actual financial reports and expected targets.
COMPARE AT ANY POINT IN TIME
YOUR ACTUAL PROFIT VS. THE OPTIMAL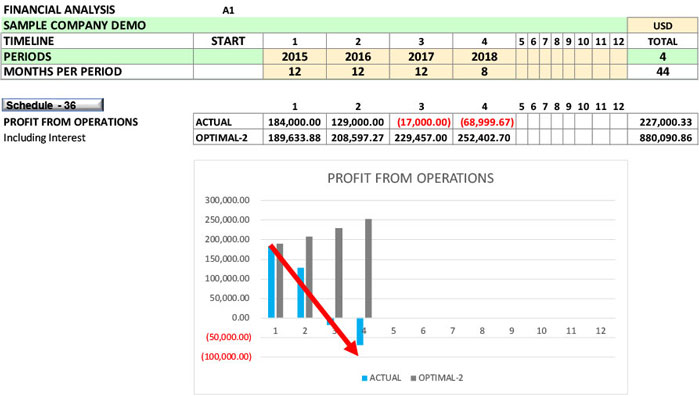 IMMEDIATELY DETECT AND MEASURE
THE AVG. FULL COST PER UNIT AFFECTING YOUR RESULTS
INSTANTLY DISCOVER
THE RELEVANT COSTS AND EXPENSES AFFECTING YOUR PROFIT
YOU CAN SELECT THE VIEW: WEEKLY, MONTHLY, YEARLY, AS % OF NET SALES OR PER UNIT)
PINPOINT
THE MAJOR COST PROBLEMS WITH PRECISION
FIND THE RELEVANT POTENTIAL COST SAVINGS
GET A COMPETITIVE EDGE
TRACK YOUR ACTUAL FINANCIAL SITUATION AT ANY POINT IN TIME
COMPARE ALL RELEVANT FACTS IN ONE PLACE
 AUTOMATICALLY CALCULATE YOUR COST EFFICIENCY TRENDS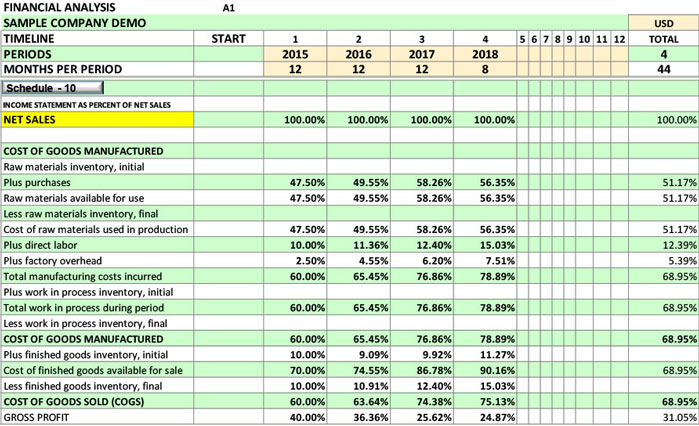 LOOK AT
THE CASH FLOW EFFECT FROM ALL YOUR SOURCES AND USES OF CASH
YOU CAN SELECT THE VIEW: WEEKLY, MONTHLY, OR YEARLY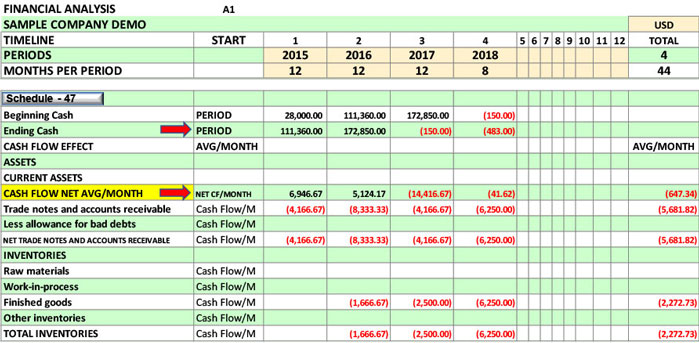 OPTIMIZE YOUR FINANCIAL PROJECTIONS
Financial projections created from scratch can be time-consuming, error-prone, and costly
Find the optimal profit by managing the product pricing, units, costs and expenses
Integrate up to 10,000 products or services for each product mix
Create and update realistic scenarios in minutes

OPTIMIZE YOUR PROJECTED PROFITABILITY
YOU CAN SELECT THE VIEW: WEEKLY, MONTHLY, OR YEARLY
OPTIMIZE YOUR PROJECTED COST EFFICIENCY
BASED ON YOUR TARGET PRODUCT MIX PER PERIOD
IMPROVE YOUR PROJECTED CASH FLOW
Automatically integrate the Projected Product Mix per timeline with the Income Statements, Balance Sheets and Cash Flows
YOU CAN SELECT THE VIEW: WEEKLY, MONTHLY, OR YEARLY
DECREASE YOUR TOTAL LIABILITIES
IMPROVE YOUR CASH ENDING BALANCE
USE THE POWER OF AUTOMATION WITH PUSH BUTTONS
GET EFFECTIVE RESULTS FASTER, CHEAPER, BETTER
CREATE FINANCIAL PROJECTIONS WITH AUTOMATED INTEGRATION
PROJECTED PRODUCT MIX PER TIMELINE
PROJECTED INCOME STATEMENTS, BALANCE SHEETS, AND CASH FLOWS
QUESTIONS?
Management Evolution, LLC
Profit & Cash Flow Optimization Experts E-mail: info@mgtevolution.com